Most of our distributors associate us with sealers, but we carry much more than sealing equipment.  Please check out our HP-280 imprinter which allows your customers to imprint any type of information on his/her packaging.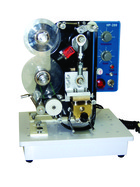 Portable, tabletop model


Automatic or manual mode available

Easy to operate

NEW – 4 lines of imprinting

Use our HP-280 imprinter for any imprinting job….the automatic mode can imprint 20-70 imprints/minute.  The HP-280 can imprint up to 3 lines of imprint with each line holding up to 14 characters.
We also now carry a 4-line imprinter for anyone that needs to imprint more information on their packaging.